Meet LegalPad, the traveling lawyer's best friend. The legal pad is a legal keypad for lawyers and law students on the move. It also works with your existing keyboard at work! Both Mac and PC-compatible.
With the press of a single key, you can switch into legal mode to access over 35 functions that legal professionals use every day.
Add a §, ¶ or © symbol;
Turn track changes on and off;
Add an em dash or an en dash;
Open and close the comment window;
Add a footnote and then toggle back to the text;
Open and close the find window;
Add a bullet;
Turn on and off

 

italics,

 

underline

 

and

 

bold;
Insert common legal terms and citations like "court," "id." and "F.2d";
And much more.
The LegalPad is compatible with both Mac and PCs. Just plug it into your laptop USB, and get back to work.
Ships in 1-2 days.
PRESS REVIEWS
"Never in my 14 years of blogging and more than two decades of covering legal technology have I seen the legal world react to a new product as it did this week to the LegalBoard, a keyboard designed for lawyers."
Robert Ambrogi, Above The Law

"Using the LegalBoard won't stop lawyers from using two spaces after a period, writing in Times New Roman, or including unnecessary string citations. But it will make legal writing easier for lawyers, at a modest cost. And that's a good thing."
Brendan Kenney, The Lawyerist

"An easy 'A–.' If only all my briefs were that good!"
Edward J. Zohn, TechnoLawyer

"We've all created shortcut keys for these symbols in the past, but they don't always work in email and they often get stripped every time IT upgrades software or changes my settings.
I've always thought that there must be an easier way, and now someone has finally come up with one: the LegalBoard."
Jack Williams, Law Technology Today
Customer Reviews
Write a Review
Ask a Question
10/09/2020
Daniel N.
United States
Where Have You Been All of My Life?!
This keyboard is AMAZING! I am writing my dissertation for my J.S.D. and this is going to be a real gamechanger. My productivity has already increased and I have only used it for a few days. Installation could not have been any more simple - just plug it into a USB port and you are good to go. There are no software or drivers to download, it just works. The LegalBoard is worth at least ten times the price! BUY IT!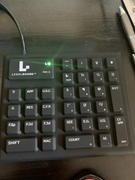 07/03/2020
Robert B.
United States
Great addition to my ergonomically correct keyboard
I did not want to get rid of my Microsoft ergonomically correct keyboard (which I use just to be proactive to prevent carpal tunnel considering the amount I type). Therefore I chose to purchase the LegalPad rather than the full keyboard option. This LegalPad is a great compliment. I am a big fan of the Em dash. For this button alone, the LegalPad was worth it.
06/25/2020
Patricia M.
United States
Worth it
I'm a law student and I absolutely love this keyboard. It saves me so much time because it enables me to easily find and insert shortcuts and special characters that I often use.
03/19/2020
George S.
United States
LegalBoard
I love the product. I wish there was a Bluetooth version of it though.
01/20/2020
Glenn C.
United States
Happy Camper
Bought it for a busy 1L student who is delighted with it. Definitely speeds up his memos. He plans to use it for exams to shave off some time.