Introducing the NEW LegalBoard Wireless! No more plugs or loose wires!
This low-profile, sleek keyboard is designed for lawyers that want the added mobility and flexibility of a wireless keyboard. With additional new legal features not included on the original, wired LegalBoard - what's not to love! PC-compatible.
With the press of a single key, you can switch into legal mode to access over 35 functions that legal professionals use every day.
Add a §, ¶, °, or ® symbol;
Turn track changes on and off;
Add an em dash or an en dash;
Open and close the comment window;
Add a footnote and then toggle back to the text;
Open and close the find window;
Add a bullet;
Turn on and off

 

italics,

 

underline

 

and

 

bold;
Insert common legal terms and citations like "court," "id." and "F.2d";
And much more.
Designed to work with Microsoft Word on Windows XP/7/8/10, but many functions also work in Microsoft Outlook. Not compatible with Mac computers. For a Mac-compatible keyboard, check out our mobile version the LegalPad.

Ships in 1 to 2 business days!
PRESS REVIEWS
"Never in my 14 years of blogging and more than two decades of covering legal technology have I seen the legal world react to a new product as it did this week to the LegalBoard, a keyboard designed for lawyers."
Robert Ambrogi, Above The Law

"Using the LegalBoard won't stop lawyers from using two spaces after a period, writing in Times New Roman, or including unnecessary string citations. But it will make legal writing easier for lawyers, at a modest cost. And that's a good thing."
Brendan Kenney, The Lawyerist

"An easy 'A–.' If only all my briefs were that good!"
Edward J. Zohn, TechnoLawyer

"We've all created shortcut keys for these symbols in the past, but they don't always work in email and they often get stripped every time IT upgrades software or changes my settings. 
I've always thought that there must be an easier way, and now someone has finally come up with one: the LegalBoard."
Jack Williams, Law Technology Today
Customer Reviews
Write a Review
Ask a Question
12/29/2021
Paul C.

United States
Great product and customer service
I loved the original keyboard and I love the wireless version even more. Customer service team was also more than happy to help when I ran into a technical issue.
12/07/2021
Charles S.

United States
Great Keyboard
Does what it says - saves time.
12/07/2021
John C.

United States
Five Stars for a Time Saving Keyboard for Lawyers
First, I love this Legal Keyboard because of the legal symbols: one key for § and Id. and Court of Appeals and ¶ and ® and C.F.R. and so on. Time savers they are. Second, I ditched my oversized and overcomplicated Microsoft keyboard. This LBoard is just the right size. The key strokes have a much more direct and pleasant touch - a more precise feel. Well made. Third & last, you have great people. When my 70+ yr old self needed questions answered from a young hip tech wizard, Ben was there even on Sunday. Five stars all the way. Wish you guys had been around 4 or 5 decades ago!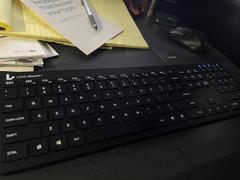 11/30/2021
Chelsea G.

United States
Worth every penny!
Another associate at my firm uses the LegalBoard and after seeing all of the features, I knew I had to order one. I've been using the product for just over two weeks now, and want to recommend them to every single person who works in the legal field that I know. I love how flat the keyboard is (helps with wrist pain!) and it has a ton of shortcuts that I now can't live without. Seriously, I'd buy this just to have the section symbol and paragraph symbol alone. I also appreciate how kind and responsive the company is. I ordered the product knowing it was backordered (covid problems) and when I asked for a status update, I received a response right away. I can't recommend this product enough!
11/30/2021
Ross S.

United States
Worth it just for the Section Symbol
Saves time and looks professional.