Introducing the NEW LegalBoard Wireless! No more plugs or loose wires!
This low-profile, sleek keyboard is designed for lawyers that want the added mobility and flexibility of a wireless keyboard. With additional new legal features not included on the original, wired LegalBoard - what's not to love! PC-compatible.
With the press of a single key, you can switch into legal mode to access over 35 functions that legal professionals use every day.
Add a §, ¶, °, or ® symbol;
Turn track changes on and off;
Add an em dash or an en dash;
Open and close the comment window;
Add a footnote and then toggle back to the text;
Open and close the find window;
Add a bullet;
Turn on and off

 

italics,

 

underline

 

and

 

bold;
Insert common legal terms and citations like "court," "id." and "F.2d";
And much more.
Designed to work with Microsoft Word on Windows XP/7/8/10, but many functions also work in Microsoft Outlook. Not compatible with Mac computers. For a Mac-compatible keyboard, check out our mobile version the LegalPad.

Ships in 1 to 2 business days!
PRESS REVIEWS
"Never in my 14 years of blogging and more than two decades of covering legal technology have I seen the legal world react to a new product as it did this week to the LegalBoard, a keyboard designed for lawyers."
Robert Ambrogi, Above The Law

"Using the LegalBoard won't stop lawyers from using two spaces after a period, writing in Times New Roman, or including unnecessary string citations. But it will make legal writing easier for lawyers, at a modest cost. And that's a good thing."
Brendan Kenney, The Lawyerist

"An easy 'A–.' If only all my briefs were that good!"
Edward J. Zohn, TechnoLawyer

"We've all created shortcut keys for these symbols in the past, but they don't always work in email and they often get stripped every time IT upgrades software or changes my settings. 
I've always thought that there must be an easier way, and now someone has finally come up with one: the LegalBoard."
Jack Williams, Law Technology Today
Customer Reviews
Write a Review
Ask a Question
10/05/2021
Ross B.

United States
Major life hack for litigation attorneys!
If you are a litigation attorney who is looking for ways to increase productivity in anyway possible, this keyboard is for you. The shortcuts are a game changer!
03/31/2021
Ronald H.

United States
Impressed
Bought the LegalBoard for my nephew in law school. It was delivered quickly, quality of build is good, and it makes his work much more efficient. Great product.
12/30/2020
Philip M.

United States
Great Product
§¶® <- I just typed all of those with one button each, in gmail, in a web browser. Yes, you can program shortcut keys in Word... but they're usually combos (not one key), and they don't carry over to Outlook, web apps, etc. I have the wired one for my office. When we went to work-from-home last March, I missed it so much that I bought the wireless for my home office. Love the product.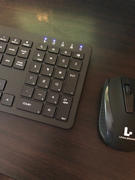 08/14/2020
Adam B.

United States
Works as it should
Overall I like the concept. Glad I got it.
07/29/2020
David C.

United States
Great innovative product
Very impressed - great innovation.